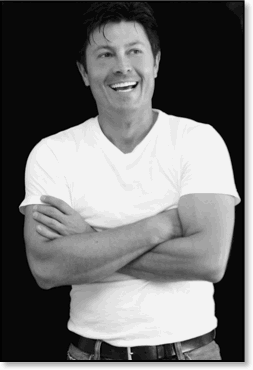 Author of the incredibly popular,
Magic's Most Amazing Stories
, Ivan Amodei says, "
This book is based on 100 plus true stories and is a roller coaster ride through our crazy profession and everything that could possibly happen to us.
" Born in Comiso, Sicily, Italy, he moved with his parents to New York City at age two.

He grew up in Brooklyn, New York and then moved to California in his mid-teens. His interest in this fantastic art started at the young age of five. After receiving his BA Degree in Marketing/Advertising and BA in English, he decided to pursue his passion for performing full-time. His passion and dedication to perfection in this art has always been the fuel for his highly successful career.

A
multi-award
winning magician and entertainer he has received Top Honors at Pacific Coast Association of Magicians,
Top Honors
at The International Brotherhood of Magicians,
Top Honors
at the Society of American Magicians, People's Choice Awards, Outstanding Showmanship Awards, and Originality Awards. He is considered one of the best in his field.

A frequent performer at The World Famous Magic Castle, as well as, other prominent comedy and magic clubs across the country.

Entertainer to the stars with performances for Steven Spielberg, Larry David, Sylvester Stallone, Ashton Kutcher, Demi Moore, Zack Braff, Mike Myers, Nick Cage and Jim Carrey just to name a few. He has even entertained Saudi Royalty. A regular performer for large companies such as Apple, Disney, IBM, Yahoo, Google, AT&T, Amgen, Cisco Systems, etc.

He is also frequently sought after for advice by top professionals and peers. He's a frequent lecturer and speaker on this subject, often teaching others his approach, philosophy and ideas for presentation of magic. But to this day, he still boasts that his best trick is producing his boy/girl twins out of thin air. Well, with a little help from his wife. When he's not doing magic and performing, he's doing magic and performing and occasionally some gardening.

________________________________________________________________________________________________

Here's what a few are saying:
"One of the best acts I've ever seen!"
Ron Wilson
Entertainment Director
The Magic Castle

________________________________________________________________________________________________
"Incredible!"
Dale Hindman
Former President
The Magic Castle
________________________________________________________________________________________________
"Ivan is not only one of the very best acts I've ever seen at the Magic Castle, It's one of the best magic acts I've seen in my life. Not only is the magic well-performed, and jolting, Ivan presents it in a wildly entertaining manner, managing to be high energy yet immediately ingratiating.

The magic is themed, skillful, and performed in a seemingly effortless manner that belies the great deal of thought that clearly went into its construction.

In the same way I delight in re-watching sequences from Buster Keaton's finely crafted films, Ivan's is one of the few acts I can see over and over, every time enjoying it as much as the last."

David Regal
Magician/Comedy Writer
www.davidregal.com
________________________________________________________________________________________________

"What just happened? That is the question you will ask yourself during and after you see Ivan Amodei perform. He is like a prize fighter — light on his feet with a punch that you'll never see coming. He will fool you. Badly. And he'll do it with a smile. And, the crazy thing is, you'll be smiling too. It's as if you were in the rink with Mohammed Ali. He enters the stage hitting hard and entertaining you all along the way.

At first, you think that's just his hook — his smile. But once you get to know Ivan, you'll realize that he is never without it. It's infectious. It spreads to everyone. I know this because I see it in every member of his audience. And, I see it in myself. I don't believe I've been in his presence without a smile of my own.

As an audience member, you can't help but be mesmerized by him. There are very few magicians that can keep a performance fresh, seemingly spontaneous, and energized, over and over again, while entertaining the pants off you too. Ivan is one of these few. I think his secret is his true love for this art, and more importantly for life.

He is undeniably one of the best in this field. He is also undeniably a happy soul. That joy filters into all that he does (including this book), and you'll see it, in full glory, when he's on stage."

Jonathan Levit
Magician
/Actor
/
Host
www.jonathanlevit.com